Lithophanes are a ton of fun to make but they can be challenging. Follow these simple steps and incorporate our Cura profile to print beautiful Lithophanes without any issues. Print lithophanes like a pro just by following these quick steps and simple tips.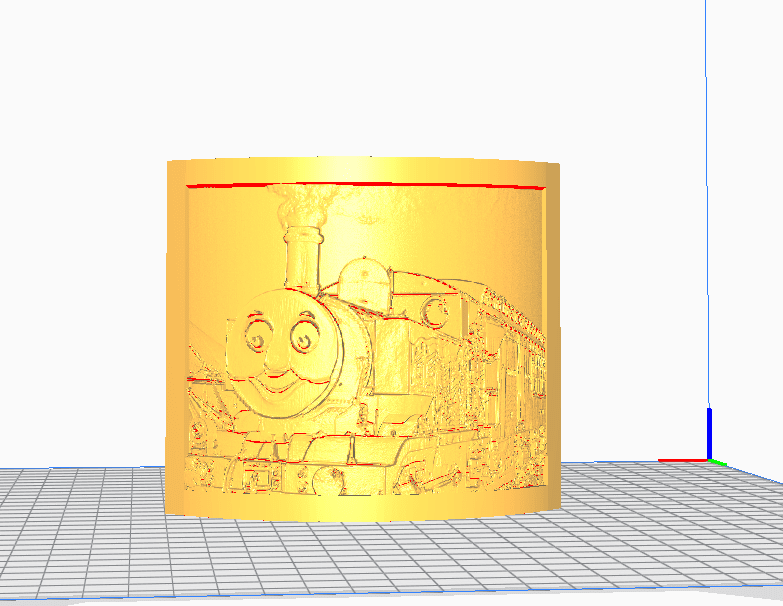 Generate a Lithophane
In Cura, you can generate a lithophone inside the tool, however, we recommend to use one of these fantastic online lithophane makers to generate your lithophane. We'll write up an advanced lithophane guide for generating them in cura in the near future!
If we're missing any great websites or tools, please let us know (leave a comment below!).
Import Cura Profile
Download our Cura profile from OneDrive and save to your computer.
Install Cura (I hope you already have this!) – Download Link (I recommend 4.4.1) – Setting up your Cura profile for your printer is beyond the scope of this document but if you leave a comment below we can try and help out. We'll just optimize a slicer profile and you will have to make sure your printer is setup appropriately.
Launch Cura -> Click "Preferences" -> Configure Cura -> Profiles -> Import
Navigate to the folder that you downloaded the file to and click on "3DprinterBuilders-Lithophane.curaprofile" and click Open.
This will load up a simple profile you can select, save and customize specific for printing lithophanes from Cura.
3D Print Lithophane
Now that you have our profile, go ahead and open up one of your lithophanes that you have generated from one of the recommended websites. I've opened up a Thomas the Tank image we took when the train was visiting a small town I used to live in.
I've published my Thomas the Tank Night Light on Thingiverse if you want to download our STL.
Below, I've highlighted the important settings for your lithophane.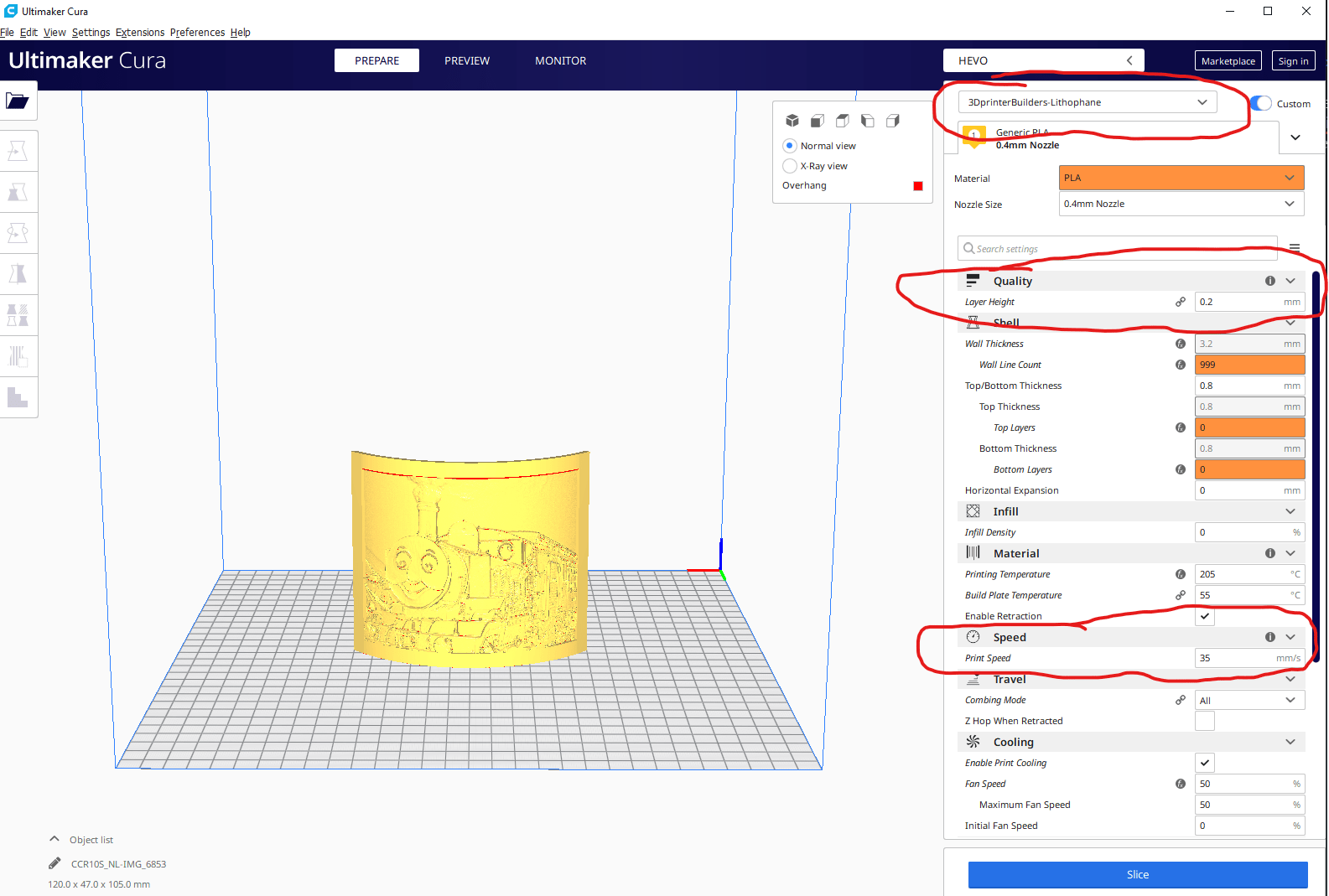 First, Ensure the dropdown box has "3D PrinterBuilders-Lithophane" as selected profile
Second, Set your layer height. I recommend at most a .2 – as this looks great and prints relatively quick. A .1 layer height will look amazing but take all day to print. Sometimes you can get away with a .25 too.
Finally, Check your print speed – 35mm/s is about the fastest you want to print a lithophane. The slower the better.
Click Slice and Print away!
Example lithophane
Here is our Thomas the tank printed using this exact profile! As you can see from the images, we printed this a little too fast and you can see more layer lines than we normally like but the end product still looks amazing as a nightlight! (Reminder: Print Slow!)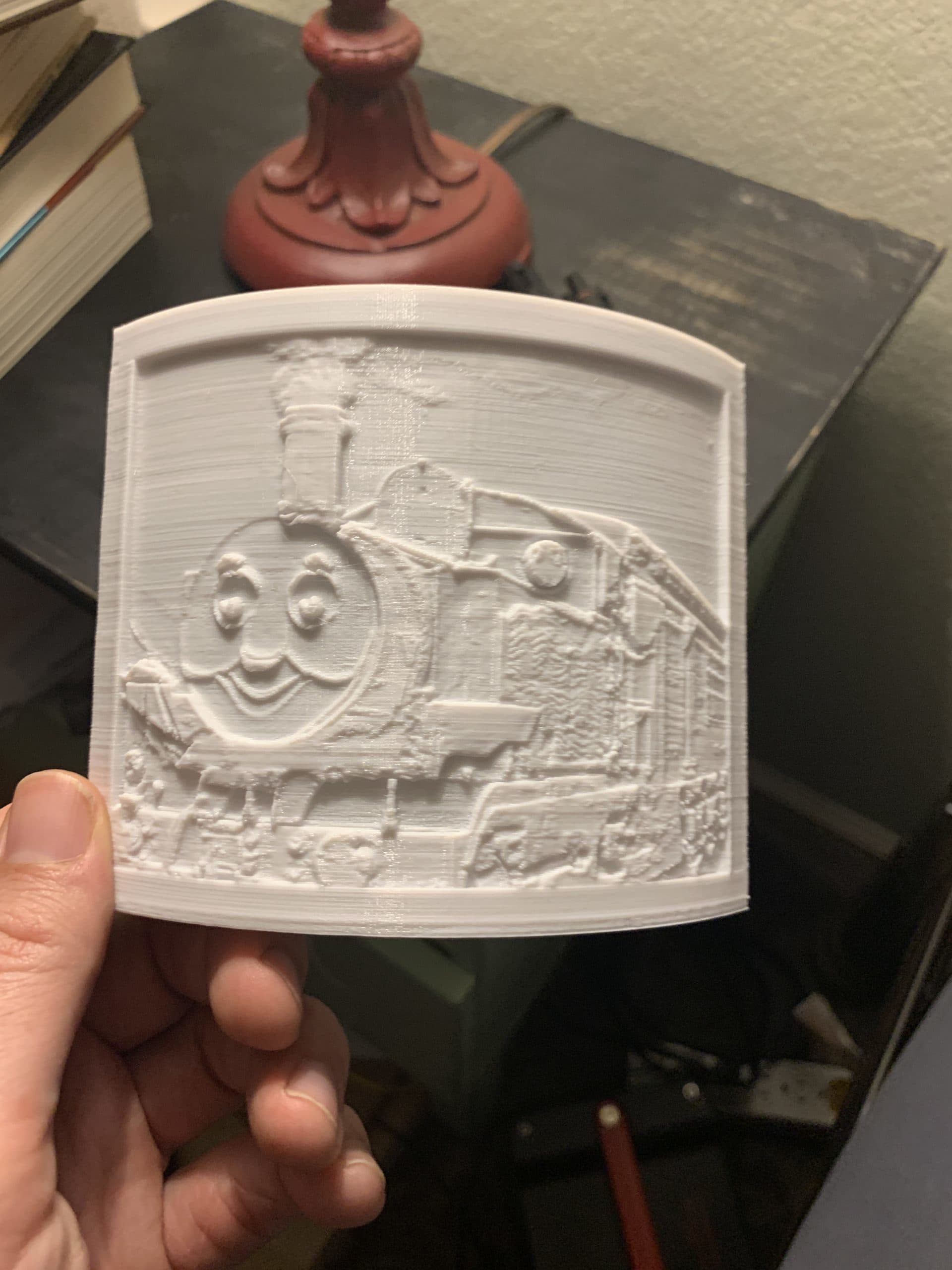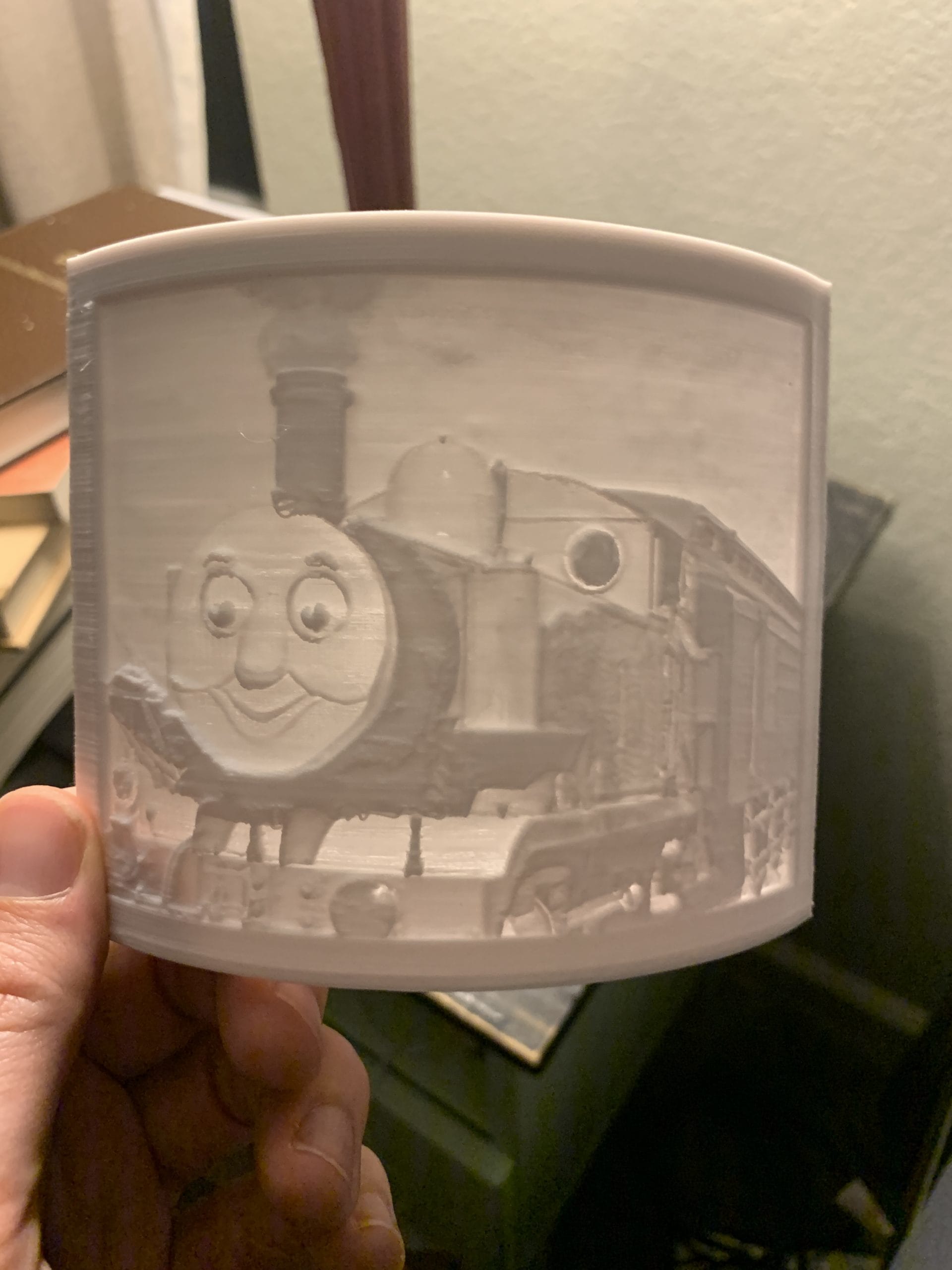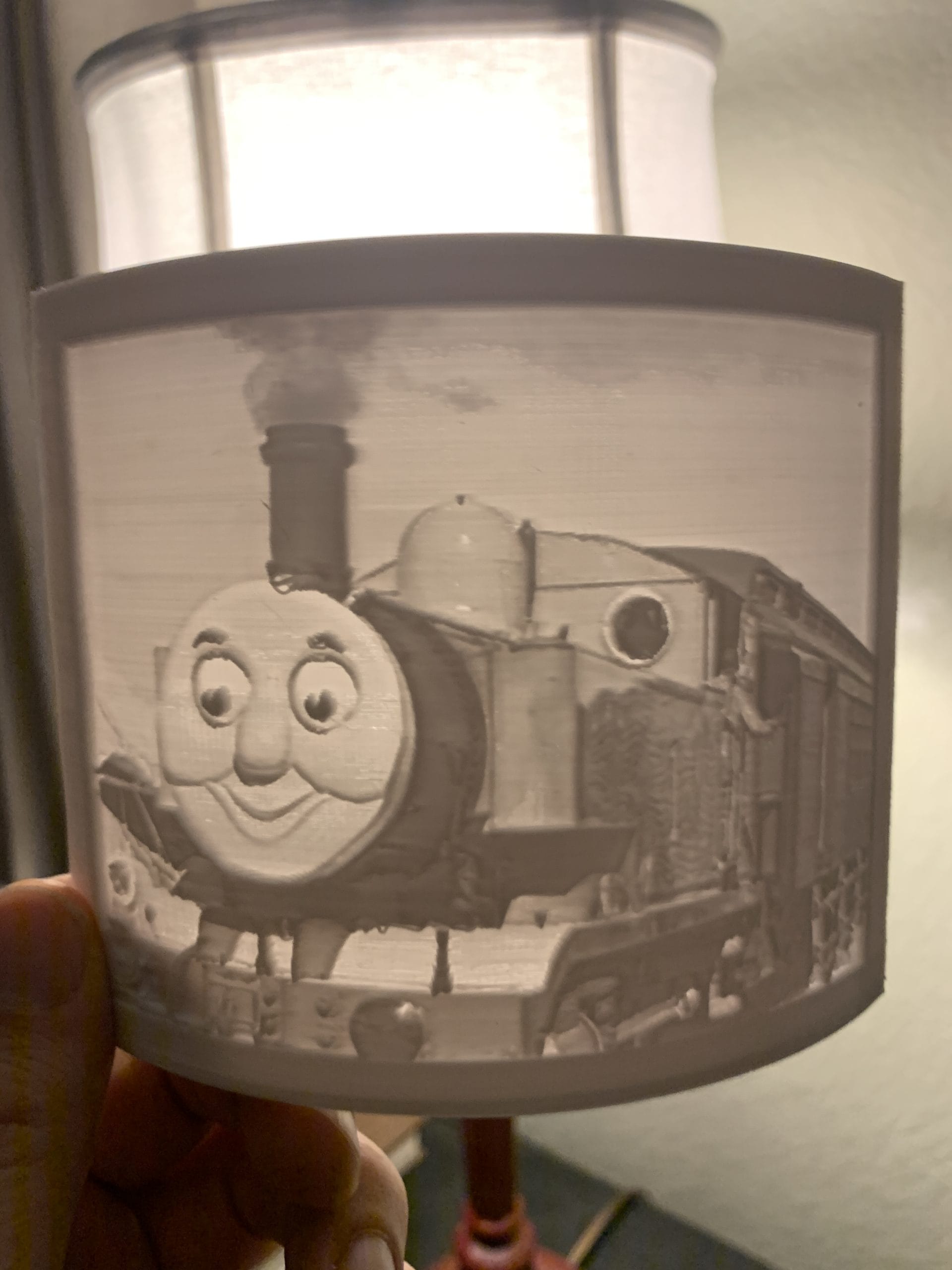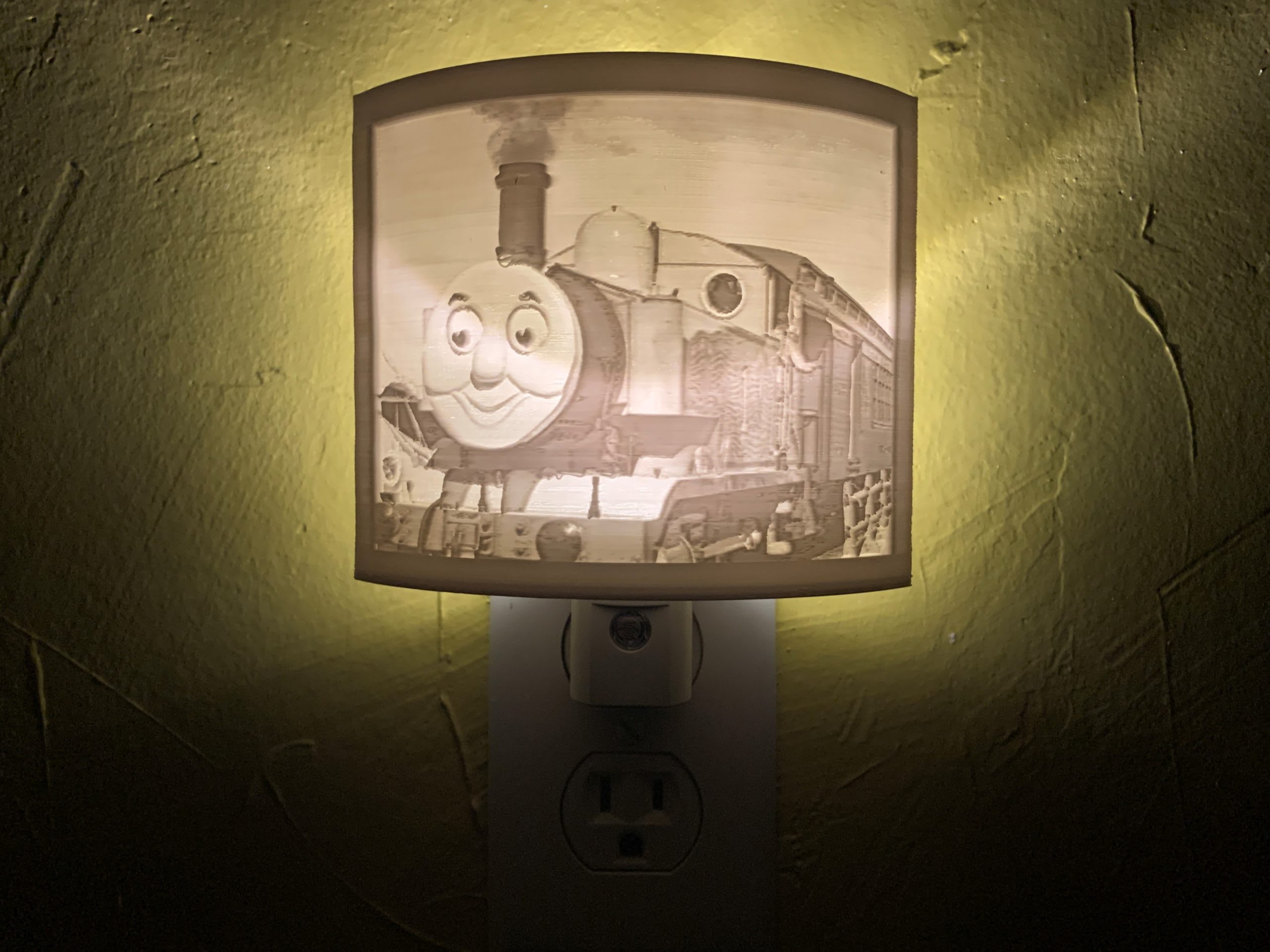 Lithophane Printing Tips
Use 999 lines instead of 99-100% infill. Bright Spots in lithophanes can cause 0% infill in many slicers, using max lines instead ensures at least 100% fill and gives great volume/resolution to your lithophane.
If you get a nozzle clog and failed print, try modifying your temperatures. It's hard to tell if it's too hot or too cool as jamming can happen if extruder can't push through a too cool filament or if your heat is too high heat-creep can cause bulging and jam.
Use a brim if you're just printing a thin lithophane with no bottom support – this will help it keep from falling over.
If your gantry moves, align the print on your Y-axis – that will print the fastest and produce the best quality.
Print Slow!
PLA prints the easiest – Whit or bone color looks great.
Print from SD Card vs USB – Long prints can sometimes just get corrupted or fail when printing over USB. Nothing worse than your PC going to sleep and ruining a long lithophane print!
Use "High Contrast" images. The detail comes out better! Images with bright lights or sun may prove to wash out photos. However, I've had great lithophanes printed that had "sunbeams" in them that came out amazing!
Print slow (Did I say this already?)
Leave us a comment below with your lithophane questions, feedback or tweaks you know about!